The systematic process of mediation implementation  in Russia has been developing since about 2004-2005. In 2005, the Scientific and Methodological Center for Mediation and Law was established by Tsisana Shamlikashvili for the purpose of developing and promoting mediation practice, and of its integration into the Russian legislation as an efficient Alternative Dispute Resolution method. In 2010, the Center significantly contributed to the development of a legislative basis for the implementation of mediation in Russia. As a result, this legislation was adopted by the President of Russian Federation on July 27, 2010, and came into effect on January 1, 2011. In 2011, the National Organisation for Mediators was established, a self-regulating professional organisation. In 2013, Federal Institute of Mediation was founded with the participation of the Center. In 2014, mediation standards under the leadership of the Center were developed and introduced.
As for the current situation, in the framework of digital economy development which was proclaimed by Russian state authorities, the Center for Mediation and Law is playing a decisive role as one of the main driving forces behind the development of the legislation for ODR.
Since the establishment of the Center, it  has successfully built the network of partners and supporters; the Center cooperates with State, Public agencies, Chamber of Commerce and Industry of Russian Federation, various associations of entrepreneurs, legal community and social services.
Mediation is mostly spread in Russia's major cities such as Moscow, St. Petersburg, Ekaterinburg, Irkutsk etc. It is the main target to increase the capacity and raise the awareness in order to popularise mediation as an alternative to the courts.  The Center for Mediation and Law tries to work in this direction and always stays in the forefront of developing mediation in Russia and internationally.
Mediation has all necessary elements to be successfully applied in Russia as there is a Federal Law and Legal Framework,  a community of professional mediators, the National Organisation of Mediators (self-regulation organisation) which adopted Code of Conduct for Mediators and Mediation Procedure Rules, Professional Standard for Mediators. Mediation and basics of ADR are taught in some Law Schools as introductory courses. In 2012, a Master's Programme on Mediation in Social Sphere was introduced. There are many other developments showing continuous interest towards mediation from various professional groups and corporations.  However,  the business community has not yet fully considered mediation as a workable conflict solution. This phenomenon seems paradoxical but is very much in line with the culture and attitude towards conflict resolution in Russian society. This is an obstacle which needs consistent efforts to be overcome.
Following the Mediation Law – Mediation can be applied to almost all kind of disputes.  Recently its use was extended to public disputes as well, except for collective disputes.
The Integrated Mediation representative  in Russia is Prof. Tsisana Shamlikashvili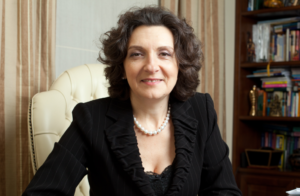 Prof. Tsisana Shamlikashvili
Prof. Tsisana Shamlikashvili is an international commercial mediator, international expert in ADR and ODR, lawyer, neurologist and psychologist. She is a Professor of the Moscow State University of Psychology and Education and holder of the chair "Mediation in social practices"; academic and scientific supervisor of the Center for Mediation and ADR in legal practice of the Moscow State Academy of Law. Her major research topic is the ways how society can influence the personality forming and development, implementation of ADR in business environment. In 2006, thanks to Mrs Shamlikashvili's initiative, Mediation Service was established by Russian Union for Industrials and Entrepreneurs. Since the end of the 1990s, she  has devoted herself to the field of Alternative Dispute Resolution, mediation in particular, and its social importance.
Tsisana Shamlikashvili is a pioneer of ADR and one of the central figures, who initiated and supported institutionalization of mediation in Russia.
Contact details:
Prof. Tsisana Shamlikashvi
Scientific and Methodological Center
for Mediation and Law
Bolshoy Tishinsky pereulok, 26/13-14, 1, office 1.
123557 Moscow
Russia
phone: +7 (499) 253-01-30, 253-11-11
Email: